english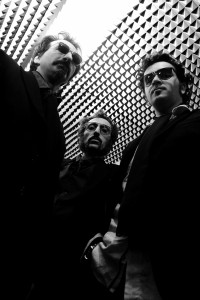 THE BUMPS "An irriverent flow between jazz and avant-garde, noise music and rock flavors, cinematographic reminiscences and urban shots."
2000 June: Vince Abbracciante, Davide Penta and Antonio Di Lorenzo meet together on the stage for the first time; from this moment on they start their musical journey. The band performs in many renowed festivals, theatres all over the world; they recorded 3 cds as "i Tàngheri", the third one "The Dharma Bums" for Universal-Emarcy with Marc Ribot on guitar. This record is a musical gem for the three explosive apulian musicians, and is the corner stone from the acustic tango to a new borderline direction, influenced by jazz, lounge, psychedelia, jazzpunk and avant-garde, with a strong "vintage" approach.
In 2011 the band produces a new album "Playin' Italian Cinedelics", a musical trip based on the italian soundtracks from 60's and 70's. The band really transforms and gives new life to masterpieces written by Trovajoli, Bongusto, Baldan Bembo, Piccioni, Umiliani and Gaslini. This album is also the birth of the label "Bumps Records".
From their great love for the italian classic movies is born "Al di sopra di ogni sospetto" an homage to Ennio Morricone where some of the Maestro's hits are performed in a typical "Bumps" approach.
During 16 years the band collected different guests: Marc Ribot, John Medeski,  Juini Booth, Flavio Boltro, Carlo Actis Dato, Roberto Ottaviano and an iconic musician as Vincenzo Deluci.
Discography
Historias del Sur – Panastudio Production 2004
Silente – Wide Sound 2005
The Dharma Bums – Emarcy/Universal 2008
Playin' Italian Cinedelics – Bumps Records 2011
Al di sopra di ogni sospetto – Bumps Records 2015
italiano